Study in Spain
Spain is a popular destination for international students who seek quality and affordable higher education. Those who wish to study abroad in Spain are welcomed at Spanish institutions of higher education, joining the other 85,000 international students that study in Spain each year.
Spanish universities offer numerous opportunities for international students who wish to obtain a quality education with excellent research opportunities. Spain is a welcoming country of extraordinary beauty and has many opportunities for relaxation, a rich culture, and excellent lifestyle opportunities for all who choose to study there.
Why Study in Spain?
Spain has 76 universities, and about two thirds of them are state-funded, with the remainder being private institutions of higher education. Spain has a long and rich tradition of higher education, and the nation's institutions are well-respected and highly ranked on the QS World University Rankings. Out of all of the institutions of higher education in Spain, 14 are in the top 500 best ranked in the world. The highest ranked of them are Universitat Autónoma de Barcelona (176th place) and Universitat de Barcelona (187th place).
It is therefore not surprising that Barcelona is one of the most popular destinations for those who wish to study in Spain. Another popular student destination is the capital city, Madrid. The best ranked universities in Madrid are Universidad Autonoma de Madrid and University Complutense Madrid. Barcelona and Madrid are in the top 20 QS Best Student Cities ranking, however other Spanish cities also welcome international students and are proud of their international student body.
Spain offers a wide range of courses and programmes at all levels of higher education, from undergraduate to Master's, PhD and even post-doc. Health-related programmes are a particularly popular choices for those who wish to study abroad in Spain, which is not surprising as Spain is among the EU countries with comparatively fewer restrictions on entry to the medical profession. However, there are many other fields and programmes that international students may be interested in, from sciences to humanities and arts.
Spanish universities work hard to maintain relationships and collaboration with other universities in Europe and around the world. For example, Spain is the most popular destination for students on the Erasmus exchange programme.
The majority of courses in Spain are taught in Spanish, but there are also many courses at both undergraduate and postgraduate level that are taught in English, and the numbers of such courses are growing.
Most undergraduate programmes in Spain last for four years, except Medicine and the double degrees, which usually span six years. Universities use the ECTS credits scale as the measure for the modules, with students typically taking 60 ECTS each year. Therefore, a typical undergraduate programme has 240 ECTS. Find out what the ECTS is from Anna, our study abroad expert.
After passing every subject and getting the 240 ECTS credits, the student obtains an academic degree (Grado), architecture or engineering qualification. Postgraduate (graduate) degrees in Spain are Master's degrees (Máster), and Doctoral degrees (Doctorado). Some universities also offer unofficial postgraduate degrees.
About Spain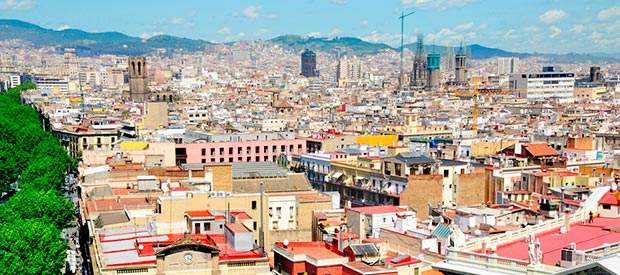 Spain is a beautiful country in Western Europe with a rich history and culture. The country (officially the Kingdom of Spain) is located on the Iberian Peninsula. Spain stretches from the Bay of Biscay in the north to the Mediterranean in the south and from Pyrenees in the east to Portugal to the west. Spain is one of the biggest European countries and the fourth most popular tourist destination in the world.
The country provides exciting cultural experience for all tourists, residents and students. It mixes a professional, cosmopolitan life with more vibrant and charming regional cultures. It also has numerous opportunities for relaxation and fun.
Spain offers countless opportunities for international students who wish to experience its culture, exciting lifestyles as well as have an excellent academic experience. Spain is one of the most popular European destinations for international students, and it's very welcoming to all who wish to study at one of its institutions of higher education.
The top tourist attractions in Spain include:
Alhambra, the famous palace, fortress and garden constructed in the 14th century by the Nasrid sultans and situated on a plateau overlooking the city of Granada in southern Spain.

San Fermín festival in Pamplona (Running of the Bulls), held each year from July 6th to 14th.

Ibiza, one of the most popular party destinations in the world.

Sagrada Familia, a Roman Catholic church in Barcelona, designed by Antoni Gaudí.

The Palacio Real (Royal Palace) of Madrid, the official residence of the King of Spain.

Aqueduct of Segovia, a Roman aqueduct, one of the best-preserved Roman monuments in Spain.

Mezquita of Cordoba, a famous building known for its forest of pillars and arches in the main hall. Originally built as a Roman temple, it later became a Visigothic church, before the Umayyad Moors built the Mezquita (Mosque).

La Concha in San Sebastian, one of the best city beaches in Europe.

Cuenca, a medieval city built on the steep sides of a mountain.

El Escorial, an old political center of the Spanish Empire under King Philip II.
Cost of Studying & Living in Spain
Tuition fees at Spanish public universities are regulated by the government at a regional level. The fees are generally calculated based on a per-credit basis. Tuition fees will vary depending on your chosen field and level of study.
Generally speaking, tuition fees are much lower than those in the UK and North America. For example, tuition fees range from about £400 to £1,000 per year. These are tuition fees for the public universities: private universities generally have much higher tuition fees.
Tuition fees at Master's and Doctoral level also depend on your chosen course and are based on a per credit basis. In the 2011-2012 academic year, graduate and doctoral students could expect to pay between $22 and $45 per credit unit. A Master's degree programme usually has 60 or 120 credit in total, while PhD programmes have 180 credits or more.
When it comes to costs of living, Spain is not as expensive as some other European countries, but students will probably need to pay close attention to their budget; a meal in an inexpensive restaurant can cost about £10, while a single bus fare will average around £1.20.
There are certain scholarship opportunities offered for those who wish to study in Spain. Both domestic and international students may be eligible for these. However, these opportunities are rare and international students who wish to study abroad in Spain will need to be covered financially before they begin their studies. Spain offers certain student loans but they are generally not available to international students.
Many students work part-time while studying. No extra work permission is required to do part-time work. However, it will be difficult to find a job if you don't speak Spanish, so it's important to have adequate language skills before applying for jobs.
Visas
Anybody who wishes to study abroad in Spain should inform themselves about visas and other regulations. The exact documentation you need to study in Spain will depend on several factors, most notably your country of residence.
If you are a citizen of one of the EU countries: you don't need a visa to study and live in Spain. However, you need to apply for a residence permit at the Central Registry Office for Foreigners within 3 months of arrival.

If you are a citizen of Norway, Switzerland, Iceland or Liechtenstein: you don't need a visa but you need to apply for a residence in the same way citizens of EU countries do.

If you are a citizen of another country: you will need a visa to study and live in Spain. To obtain your visa, you need to apply via a Spanish embassy or consulate after you receive an official offer of a place.
The entry procedure will vary depending on your country of residence. Generally speaking, you will be asked to provide details of where you intend to live while you're in Spain. Therefore, you will have to arrange accommodation in advance. You may do that through the university or privately. Flat sharing is also common among students. As a temporary solution, many students use hostels or even 'couch-surf' when they first arrive in Spain and then seek more permanent housing later.
Language
Studying and living in Spain is an excellent opportunity to learn or improve your Spanish. While there are some courses offered in English – and many people speak English – it's advisable to learn Spanish if you intend to study in the country.
Spanish is one of the most widely spoken languages in the world with an estimated 450 million people worldwide using the language. In fact, after Mandarin, it's the second largest mother tongue. Spanish is also the second most used language in international communication and the third most used language on the Internet.
Apart from Spanish, the Catalan language enjoys equal status in the Catalonia region. This language is commonly used within higher education. It's interesting to note that the Catalan region (its capital is Barcelona) is one of the most popular destinations for students who wish to study in Spain.
International students who wish to study at one of Spain's institutions of higher education can either sign up for one of the programmes taught in Spanish or opt for one of a growing number of courses available in English. For everyday communication with the locals, it's always best to speak Spanish, and while people generally speak English, it's always best to practice your Spanish in order to improve your language skills and to experience your time in Spain to its fullest.